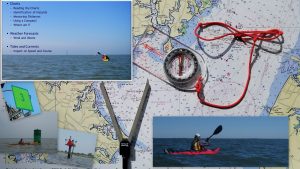 This is an introduction to kayak navigation classroom session for all levels.  If you've taken navigation before, you can still come, I guarantee you probably forgot a lot of it.  I teach this so I don't forget.  We focus on planning a trip and look at the factors that might be involved.  Then we cover what we might expect to find while paddling.  This class will be scheduled again in the Spring of 2020.  
Class Outline
Charts:
–  Reading a Chart
–  Identification of Hazards
–  Measuring Distances
–  Using a Compass
–  Where am I?
Rules of the Road
Tides and Currents
Weather
What to Bring:
1.  Charts that you typically use
2.  A hand held compass
3.  Ruler / straight edge, pencils with eraser, any other tools you use to plan trips
4.  An open mind.
5.  Lunch
Navigation Tutorials:
Additional Classes:
There is a followup On Water Navigation Class that will be offered through Cross Currents Sea Kayaking.  Please check the events calendar for details.