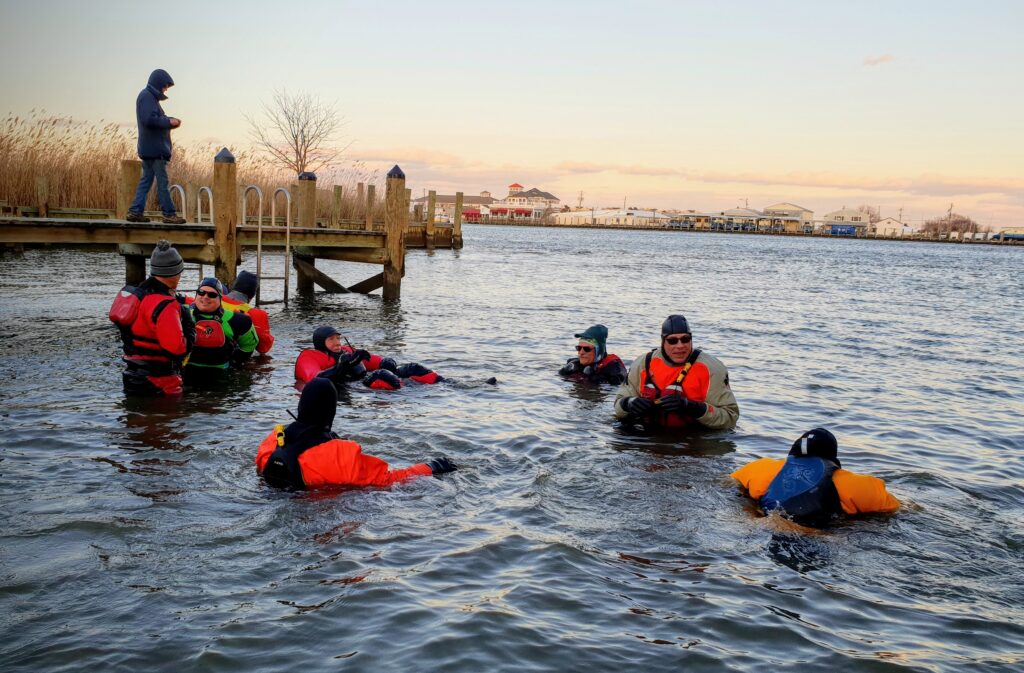 Chesapeake Paddlers Association sponsored a free cold water workshop featuring Moulton Avery Director of the National Center for Cold Water Safety (http://www.coldwatersafety.org/). 
Several other CPA members also presented topics including dressing for cold water and care and maintenance of your dry suit.  The day was highlighted by a brave group of participants taking a swim in their cold water gear.  
The water temperature was about 43o F, air temperatures were near freezing with a brisk wind.  About 12 people actually went into the water.  They lasted about 11 minutes.  We found one leaking drysuit and everyone had the chance to experience what being in cold water is like.  Now imagine being out in the Chesapeake Bay and something goes wrong.  You can't just walk up the boat ramp when you are ready to get out.   
Remember that cold water kills, but the best way to learn about the danger is to experience it in a controlled environment.  Here is a first hand summery of the experience from one of the participants:
"The big take away for me is that it is one thing to learn about cold water danger in a book or workshop or by reading about it and quite another to field test your dry suit and put your face in 43 degree F water.  My drysuit had no leaks and I wore a base layer and fleece layer.  My cold water clothing kept me dry and I had good core warmth for the 11 minutes I was in the water.  My neoprene gloves failed after 5 min.  I could not handle a cell phone after that and in an emergency I would not have been able to make an emergency call and it would have been very difficult to hang onto my kayak and paddle if I was swimming.  My hands simply would not work. 
After volunteering to dunk my head ( I was wearing a thick neoprene hood) my face felt like it was stabbed by 100 knives and I instantly experienced intense brain freeze (ice cream headache) that was 10 times worse that anything I ever experienced before.  It brings a whole new perspective to any capsize incident in cold water."