Introduction to Rocks and Ledges
August 14, 2020

-

August 16, 2020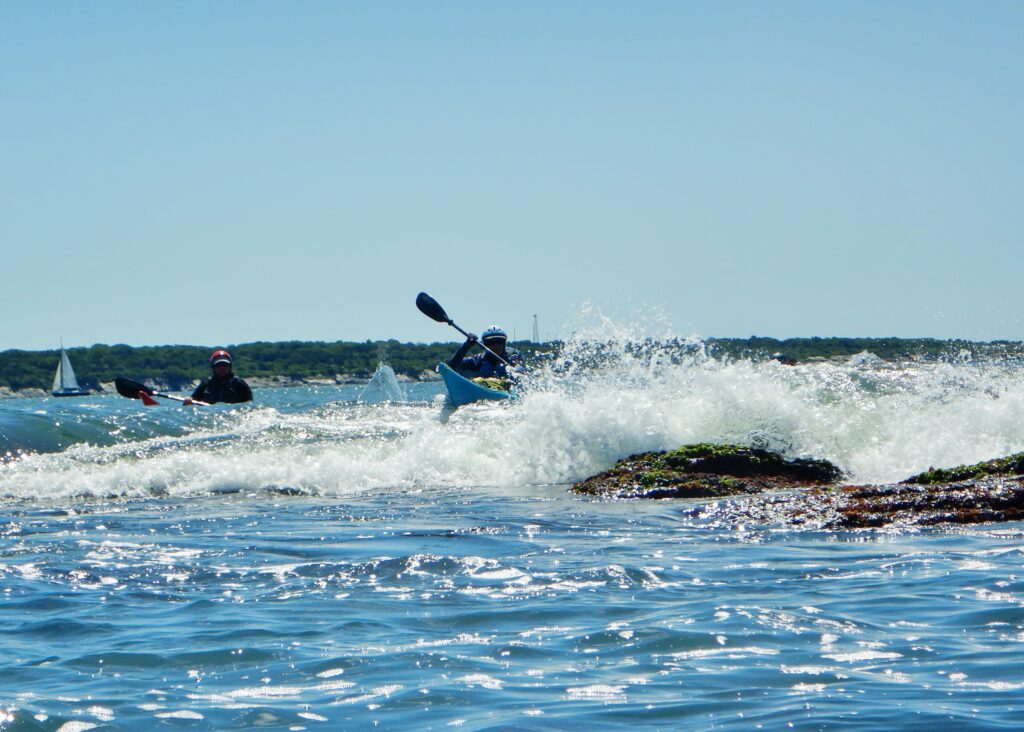 Join us on this very exciting and challenging course during which we will learn all the basic strategies for dealing with swell as it meets  dramatic rocky shorelines and islands. It is just too much fun!
This is a three-day course. The first day (Fri) will focus on practicing the strokes and maneuvers that are used most frequently when playing in rocks and ledges. These include forward and reverse "sprints", sculling draws and draws on the move, advanced stern rudders, bow rudders and low brace turns. We'll also review the safest strategies for dealing with the unexpected capsize near swell and rocks. To see how these strokes and maneuvers work around rocks – and to develop confidence – we'll practice in small play
spots for most of the day.
Over the next two days, we'll try some runs through narrow slots in the rocks, ride swell up to get as close to the rock face as possible and try some pour-overs. You'll learn how to use risk assessment to select appropriate play spots. We'll start with small features to develop water-reading skills and work our way up to bigger features. In all play spots, what you do will be "challenge by choice" i.e. if you don't feel comfortable trying something, that is totally fine. You can just watch or maybe try a smaller feature. This is about expanding your skills and challenging yourself; not about being stupid or unsafe. This is not a testosterone challenge!
If you want to do this course you should be a pretty solid intermediate-level sea kayaker with good boat control and bracing skills. A roll  would be helpful but isn't required. You do not need previous experience in rock gardens, although you are welcome to join us if you have had some exposure to this aspect of paddling. You definitely need a helmet.