Navigation for Beginners
May 7, 2022 @ 9:30 am

-

4:00 pm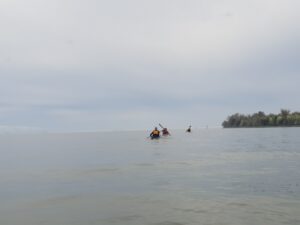 When you go on a paddle, do you know where you are, where you are going. Many people simply follow the leader, but everyone should be able to find their way home in case something happens.
You may have taken the one-day classroom-based navigation course with CPA and now it's time to apply that learning to the real world of sea kayaking. This will be an introductory class that will cover all the basics of on-water navigation.
We will learn how to read a nautical chart and compare it to what you are seeing while you're on the water. The class will include understanding aids to navigation, how to measure distance, the basics of the "rules of the road", and how to safely cross busy boat channels.
We will use a chart and compass together to plot a course and then follow that course to a specific location.  Then while paddling will use visual navigation tools such as finding and using a range to hold a straight course.  
You can review the information from the Navigation Classroom here:
Charts 
Tides and Currents
Wind and Weather